Robin Hood Series 1
"It's a different type of character, it's quite a dark character. I've never really done anything which is so active, there's loads of riding, fighting and that's unusual on such a long period of time. That's a good challenge."
[1]
In his highest profile role to date, Richard Armitage plays the evil Sir Guy of Gisborne in the BBC's major new adaptation of Robin Hood.
Encouraged by the success of the re-invented Doctor Who in 2005, a series that appeals to adults and children alike, the BBC commissioned a 13 part series in similar vein retelling the stories of Robin Hood. It was made by Tiger Aspect Productions.

Jonas Armstrong and Lucy Griffiths star as Robin Hood and Marian, while Keith Allen and Richard Armitage play the villains - the Sheriff of Nottingham and his sidekick Guy of Gisborne. The series was created by Dominic Minghella and Foz Allan and is very much of its time.

Marian is a feisty young woman doing her bit for the poor in her own way and one of the 'Merry Men' is actually a young Saracen woman who was brought to England as a slave girl, escaped and then decided to pose as a man. Robin has returned from the Crusades with a dislike of bloodshed and a knowledge of the Koran. The series often draws parallels with contemporary situations, particularly the War on Terror.

"It's almost in the bad guys' interests to keep Robin alive – like the modern situation with terrorists. Guy and the Sheriff need him as a scapegoat, to keep fear in the hearts of the people," said Richard Armitage. [2]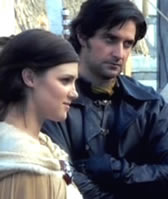 But there's also action and humour and fun, much of it provided by Robin's gang of outlaws, particularly his manservant Much (frequently moaning about the lack of food in the forest) and Alan a Dale ("I'm not bein' funny, but...").

And there's love too - and not just between Robin and Marian. "It was always our ambition to play out the love triangle between Robin, Guy and Marian," said Dominic Minghella. "Armitage captures so brilliantly the way that Guy is so consumed by his own ambition and desire for status and credibility which focuses itself on this poor girl." [2]

This Guy of Gisborne is rather more than than a one-dimensional villain. Initially little more than a bully who murders and tortures seemingly without compunction, as the series progresses he is revealed as a more complex character. He glowers attractively in black leather, striding around Nottingham and Locksley frightening the populace. The BBC Robin Hood website describes him as "vain, brutal, ambitious, loyal, practical, unemotional, single-minded, boastful, frustrated, ... a selfish bully." But his growing love for Marian begins to unravel him somewhat.
Foz Allan said recently, "Richard Armitage is fantastically charismatic and sexy. I suppose I've been surprised at how sexy the show is, people getting inundated with fan mail and all that kind of stuff. Anybody under 30 is absolutely in love with Robin Hood, anybody over 30 is in love with Guy of Gisborne." Explaining why Gisborne is such an intriguing character, he said, "There's something underneath there that's interesting, lurking. If we could only get it out. That's kind of what we're going for for Gisborne." [3]
The series was filmed, not in Sherwood Forest, but near Budapest. The cast spent six months in Hungary during 2006 filming.

Robin Hood was a major part of BBC One's Saturday evening schedule for autumn 2006. It had mixed reviews - some viewers and critics complained of historical anachronisms in the costuming and the weapons, but others happily accepted it for what it was, an enjoyable adventure series that was in some senses a fantasy, deliberately not designed to be entirely historically accurate. The villains, and in particular Guy of Gisborne, were often singled out for praise.

It got ratings of around 6 million viewers and has been sold to over 50 other countries, making Robin Hood one of the BBC's most successful exports in the last two years. As a result, the show was recommissioned. The second series debuted on the BBC in October 2007. The third series is now in production and will be seen on the BBC in early 2009.

The first two series have been broadcast on BBC America, on ABC in Australia, on BBC Canada, and in many other countries in Europe and elsewhere (see the Richard Armitage on TV page for times of broadcasts in the near future).
For information about the second series, see the Robin Hood Series 2 section.
For information about the third series, see the Robin Hood Series 3 page.
Links

BBC Robin Hood website
BBC America Robin Hood website
BBC France Robin des Bois website (includes a French translation of an interview with Richard Armitage)
LaLa TV Robin Hood website (in Japanese)
Tiger Aspect Productions

Sources

[1] Interview with Richard Armitage on Robin Hood DVD (Volume 2)
[2] Daily Telegraph, 16th September 2006
[3] Foz Allan, quoted on NewsOK.com, 27th July 2007.