Robin Hood series 1 : Playing Guy of Gisborne (2)

Preparation

Richard Armitage's preparation for the role started with reading. "When I found out that I was going to be playing Guy of Gisborne, I looked back through as many of the old stories as possible of the original Robin Hood texts, of which there are quite a few," he said. "But I didn't want to be influenced too much by other material so that was really it – just those stories." [5]

In a diary he kept on-set, extracts from which were published in the Sunday Telegraph, series writer Dominic Minghella said, "One of our great casting coups is Richard Armitage (who plays Sir Guy of Gisborne, the Sheriff's right-hand man), a modest man of sharp intellect and smouldering good looks.

"Today, he knocks on my door with a pencil and pad. Can he ask me some questions about his character? I tell him, truthfully, that I can't believe he is here - an actor of his talent, sitting on my sofa, talking to me about playing this part. I feel so lucky. Suddenly, I stop myself - do I destroy what little (gamma-male) authority I have by being so candid? I glance at him. My concerns are unfounded. He is blushing. A man of his talent. I remind myself that the only folk more insecure than writers are actors." [6]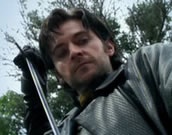 But there were conflicts in the character that the actor had to resolve.

"It's been very interesting playing moments where he is doing the most awful slaughter and then in the next moment he is declaring how much he loves this young girl. It was quite a challenge to work out what kind of guy could separate himself like that." [4]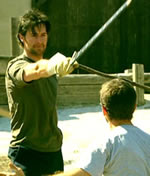 The series was filmed near Budapest in Hungary, a shoot lasting 6 months. At the beginning, the actors had to learn to fight and ride.

"We all went over for two weeks before filming started to what they termed the Hood Academy, where we did riding in the morning and then we went to the studio and did fighting, sword fighting, and archery in the afternoon. You've got grown men from 20 to 40 all in a room being 10 years old again and loving it. When guest artists come out to work on all the different episodes, you can see in their eyes that they're about to have the greatest adventure of their lives." [4]


Playing the role

"It's a different type of character, it's quite a dark character. I've never really done anything which is so active, there's loads of riding, fighting and that's unusual on such a long period of time. That's a good challenge." [1]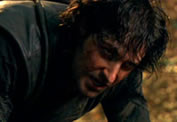 At times it was exhausting. "The one thing that stands out in my memory was that big fight sequence in the forest [between Robin and Gisborne] because it went on for so long. We were there from nine in the morning to eight at night over the course of a week. I felt like I was constantly in that forest - filthy, sweating, bitten from mosquitoes that were everywhere - that really finished me off. But it was worth it because the final cut-together sequence looks great." [7]

And his horse, Richie, sometimes caused problems. "As soon as you point a horse towards open land when it has been standing around all day, you can guarantee that it will want to run in that direction. So when they said 'Action!' – and to be honest the horses understand 'Action!' – they go whether you kick them or not ... and my horse bolted. It wanted to run for its life and I was on the back of it. Everyone was shouting at me to stop, which made me laugh because I thought I actually really do want to stop and if I had any control over this horse I would be stopping it!" [4]

Gisborne could have been simply a one-dimensional pantomime villain who is unbelievably evil. But he works on-screen as a believable and complex character. The key is probably the fact that Richard Armitage believed in him.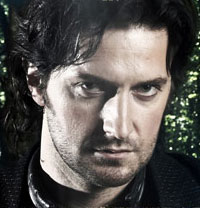 "I've become quite protective of my 'baddie' now. You have to fall in love with him a bit, you have to condone what he does. You have to find reasons for what he does even though they're terrible things." [3]

"In my head Gisborne is his own hero; what he is fighting for he completely believes in, I've convinced myself!" [4]

He enjoyed the chance to play such an evil character. "Playing the baddie is great fun. In civilised society, you have to temper your nasty dark side, but you get to unleash all those nasties that are lurking around." [2]

In fact, both Richard Armitage and Keith Allen clearly relished playing the villains. Many critics and viewers have thought they were the most successful characters in the show. But Richard Armitage was aware of the need to be careful how they played these men.

"When you see something which is written down in quite a comic and slapstick way, it is easy to dream of it in a slightly cartoon way. But it's our job to pull it back, make it as dark as possible, and let the comedy work for itself. There is a fine line between making the Sheriff and Gisborne comic in their evilness because it is very funny – what they do and the way they do it. If the comedy is there it will take care of itself, you don't need to play the comedy. Actually, if you do the opposite, if you play it quite straight, the comedy seems to leap out of its own accord. So I tend to leave it alone. [2]

In spite of the comic possibilities of such an evil character and the fact that he is sometimes made to look foolish by the Sheriff or Marian, Gisborne is a dark and powerful presence in the series.

"I'm really hoping that when people sit and watch this, when Gisborne is trying to woo Marian they absolutely squirm in their seats and their skin is crawling. That was my main aim with this character, to make people absolutely despise him," said Richard Armitage. [3]

We certainly do despise him. And yet there are layers to this man that occasionally evoke sympathy as well. His desperate striving for status and his love for Marian make him vulnerable - he is likely to remain thwarted on both counts, and it's possible to feel some pity for him for that. But not much.

Some viewers simply enjoy the adventure though. "I went to the Children's BAFTAs to present an award and these three lads, aged about 14, came up to me. One said 'Can we give you a hug? We love Robin Hood, we watch it every week.' He was so excited. That really moved me and made my year." [8]

Sources

[1] Interview with Richard Armitage on Robin Hood (Volume 2) DVD
[2] Interview on Robin Hood audiobook, "Will You Tolerate This?"
[3] Interview with Richard Armitage on BBC Robin Hood website, October 2006
[4] BBC Press release, Robin Hood, week 42, 2006. (A copy of the press release can be seen at 'the uk tv guide' blog.)
[5] Interview on Robin Hood audiobook, "Sheriff got your Tongue?"
[6] Sunday Telegraph, 1st October 2006
[7] Interview on Robin Hood audiobook, "Who Shot the Sheriff?"
[8] Sunday Mercury, 17th December 2006.