Robin Hood Series 2
"I find myself defending [Gisborne] all the time, even though
he's terribly bad."
[1]
Robin Hood returned to BBC One in October 2007 for a new series of adventures.
The 13 part series features the same cast as before, but with a number of guest stars including Dexter Fletcher, Ralf Little, David Bamber, Josie Lawrence, Denis Lawson, and Tony Slattery.
The stakes are higher in this series, as Foz Allan, co-executive producer, explained, "The sheriff is planning a coup d'etat, so when King Richard lands, returns from the Holy Land, he'll be wiped out. Prince John will become king, the sheriff will become chancellor of England, i.e. the richest man in England. That's the plan, that every one of the sheriff's scams is generating money or men or income or technology for that coup. It's not just about the little guy down the road; it's about the soul of England." [2]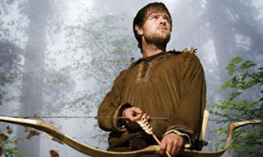 Jonas Armstrong, who plays Robin, added,"Robin is a worried man. The stakes have got much higher, and the weight of the world is upon his shoulders. Now, because of the Sheriff's dastardly plan, the whole country is at risk. The threat to England is very grave indeed. So I wanted to make Robin less cheeky and more dark, troubled and introverted. He's far more real and interesting." [3]
He has also changed physically. "I've been working out and have bulked out considerably," he said. "I saw a picture of myself at the launch last year and I looked a bit thin. So I made a decision to get a personal trainer and I've put on a stone and a half in muscle." As Foz Allan said, "He is a more imposing, sexy and manly figure now." [3]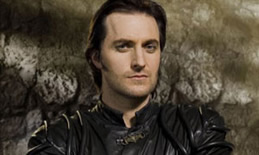 In the first series the villains were much praised, particularly Richard Armitage's carefully layered Guy of Gisborne. "In order to sustain the character of Guy you have to find conflict within him," he explained. "He's constantly pulled between good and evil, between who he really wants to be and who he actually is. He could have been a good man, but he is forever dragged down by his fatal flaw – that he wants glory at all costs. I think that internal conflict works very well, because after all, all the best drama is fuelled by conflict.
"You've got to have baddies that you can boo. While you always have to play your character with truth, at the same time you have to make him dastardly. For the purposes of the plot – because he is Robin's great rival in politics and in love – viewers have to dislike Guy. And the music backs that up – it seems to boo Guy every time he comes on screen!" [3]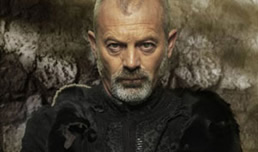 The relationship between Guy and his master, the Sheriff of Nottingham, is evolving. "During this series, you become more acquainted with the idea that the Sheriff is grooming Guy," said Keith Allen (the Sheriff). "He sees him as his boy and is training him in the ways of extreme evil. The Sheriff never lets Guy forget who's boss. He always holds the reins, he's delighted to have power over someone so much taller! He also loves winding Guy up. He's always taking the micky out of Guy for his love of Marian. It's really cruel but great fun to play!" [3]
For her part, at the end of the last series Marian walked out on her wedding to Guy and declared her love for Robin, so in that sense the "love triangle" between Robin, Marian and Guy is resolved. But Guy is not fully aware of this and still has feelings for her, and she plays on that to get information from him.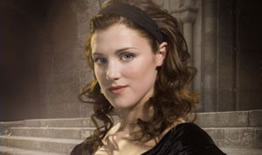 "In the past, Marian was apprehensive and dismissive of Guy's advances, but she's much wilier now," explained Lucy Griffiths, who plays Marian. "She's figured that she has to play along with him so she's in a better position to get information out of him that can help Robin. She's a very clever double agent!" [3]
The relationship between Robin and the Sheriff has also changed. Keith Allen explained, "In this series, Prince John has issued a decree that if the Sheriff were to die of unnatural causes, he would send his shock troops to raze Nottingham to the ground. This marks a big shift in the relationship between the Sheriff and Robin. The Sheriff starts to act with impunity because he realises Robin cannot kill him. For his part, Robin has to find ever more clever ways of combating the villainous Sheriff. It's great!" [3]
One criticism of the first series was that the Sheriff could easily have killed Robin, but somehow never did so. But as Keith Allen said, "It's like a father-son relationship gone wrong. How much would the Sheriff miss Robin if he killed him? A lot!" [3]
Another criticism was that Robin was too reluctant to kill his enemies. This time, said Foz Allan, "Robin is much more of a leader and decision-maker. His choices and dilemmas are that much greater because the stakes are so much higher. If Robin has to kill someone in order to prevent a catastrophe then, with respect, that's what he will do." [3]
Lead writer Dominic Minghella, who created Robin Hood and is also an executive producer, said, "The second series is darker and bigger and Robin is tortured and bullied a bit. The battle is not just in Nottingham anymore, it is a battle for England." [4]
Richard Armitage felt that the new series "is funnier in places, but it's also darker." [5] Summing up the appeal of the show, he said, "It works on so many different levels. Trying to please everyone can be very hard, but, like Shrek or The Simpsons, Robin Hood manages to entertain adults and children at the same time but in different ways. Adults will not necessarily laugh at the same thing as their children. Making a drama succeed for different audiences is a very hard feat, but I think we've achieved it really well." [3]
The second series was generally felt to have been stronger than the first one, although its dramatic and completely unexpected ending generated controversy wherever the show was broadcast. It will return for a third series in 2009.
For information about the first series, see the Robin Hood Series 1 section.
Links
BBC Robin Hood website, which includes interviews with the cast.
Tiger Aspect, the production company for Robin Hood.
BBC America's press information about series 2
BBC America Robin Hood website
BBC France Robin des Bois website (includes a French translation of an interview with Richard Armitage)

Sources
[1] Interview with Richard Armitage in 'Red' magazine, October 2007
[2] Foz Allan, quoted on NewsOK.com, 27th July 2007.
[3] BBC Press pack for Robin Hood series 2
[4] Daily Mirror, 27th August 2007
[5] Richard Armitage, interview with Mike Bushell for BBC Breakfast, September 2007.