Robin Hood series 2 : Production details and DVDs
The 13 episodes of Series 2 of Robin Hood was broadcast on BBC One from October to December 2007. The series is now being shown in other countries around the world.

| | |
| --- | --- |
| Robin Hood | Jonas Armstrong |
| Marian | Lucy Griffiths |
| Sir Guy of Gisborne | Richard Armitage |
| Sheriff of Nottingham | Keith Allen |
| Much | Sam Troughton |
| Will Scarlett | Harry Lloyd |
| Little John | Gordon Kennedy |
| Allan A Dale | Joe Armstrong |
| Djaq | Anjali Jay |
| Sir Edward | Michael Elwyn |
| | |
| Created by | Dominic Minghella and Foz Allan |
| Executive producers | Dominic Minghella and Foz Allan |
| Writers | Dominic Minghella, Simon J. Ashford, Jason Sutton, Julian Unthank, Debbie Oates, Rob Heyland, Julian Jones, Richard Stoneman, John Fay, Kurti & Doyle |
| Directors | Ciaran Donnelly, Matthew Evans, Roger Goldby, James Erskine |
| Producer | Nick Pitt |
Produced by Tiger Aspect for the BBC.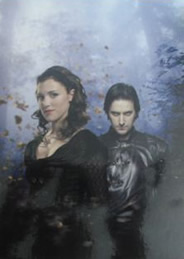 The series has been released as a Region 4 DVD boxset in Australia. It can be ordered at the ABC Shop. It's also available in New Zealand.
A Region 1 boxset has been released in North America and is available from Amazon USA and Amazon Canada.
A Region 2 boxset was released in the UK on 3rd November. It can be ordered from Amazon UK
and Amazon Germany. A French version is available at Amazon France
. It has both French and English soundtracks, and French subtitles. A Dutch-subtitled version is also available.
The extras are:
Subtitles in English for the Deaf and Hearing Impaired

Beneath the Hood: Making Robin Hood Season 2

Exclusive Marian Featurette

Exclusive Edward Featurette

Commentaries on episodes 1, 7, 12 and 13 by Richard Armitage, Lucy Griffiths, Gordon Kennedy, Sam Troughton, Anjali Jay, Dominic Minghella and Foz Allan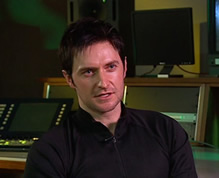 Watch some extracts from the commentaries;
Episode 7 "Let me look after you", episode 13 "Kill the Sheriff", and episode 13 "It's over Guy", the final scene between Guy and Marian. Those commenting include Richard Armitage, Lucy Griffiths and Gordon Kennedy. (A smaller version of "Kill the Sheriff", suitable for those with slower connections, is here...)
Watch a short extract from the Marian featurette, in which Richard Armitage (left) and Lucy Griffiths discuss Guy of Gisborne and his relationship with Marian (smaller version for slower connections).
On 11th May 2010, Just Entertainment will release a DVD set of all three series of Robin Hood with Dutch subtitles. Entitled "Robin Hood - The Legend Returns", it will contain the same extras as the series 3 DVD boxset.
iTunes
UK residents can now purchase and download this series at iTunes. Single episodes cost £1.89, while the whole series can be downloaded for £21.99. The downloaded episodes can be viewed on Macs, PCs, video iPods, iPhones and Apple TV.
This series is also available on iTunes in the USA. Single episodes cost $1.99 each.
Soundtrack
The soundtrack CD, containing 34 tracks of music from the series, is available at Amazon UK
, Amazon USA, Amazon Germany, Amazon France and Amazon Japan.
It can also be downloaded from iTunes (UK residents only). Each track costs 79p, or the whole soundtrack can be bought for £7.99.
The first of a range of Robin Hood toys has been released by Vivid Imaginations.

Five inch tall 'super poseable' action figures of some of the characters are available, including Robin Hood, Little John, the Nightwatchman, the Sheriff and Guy of Gisborne (right).

The Gisborne figure comes with sword, scabbard and hand-painted stubble (!). Even the spurs have been re-created.

It can be ordered from Amazon UK.

Also at Amazon UK is a Guy of Gisborne figure on horseback.

In the USA, a set of five Robin Hood figures (including Gisborne) is now available from Amazon USA. Newbury Comics are selling Gisborne on his own.