Spooks series 7
In 2008 Richard Armitage joined the BBC's long-running spy series, Spooks as MI5 officer Lucas North.
He joined a cast that included Peter Firth and Rupert Penry-Jones in the seventh series of the BBC's popular and critically acclaimed drama about MI5, the UK's security intelligence agency. The eight part series ran on BBC One and BBC Three through the autumn, and was praised by critics as possibly its best ever series. It was nominated for a BAFTA award for Best Drama Series.
Richard played Lucas North, an MI5 officer who has just spent eight years in a Russian prison. He was formerly the protégé of Harry Pearce (Peter Firth), who is MI5's Head of Counter-Terrorism and who helps to secure his release at the beginning of the series. Producer Katie Swinden described Lucas as a "complex and intriguing character" [1]. A hardened spy, he is still in love with his Russian ex-wife.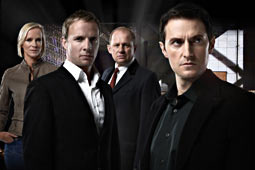 Hermione Norris, Rupert Penry-Jones, Peter Firth and Richard Armitage in Spooks. © BBC
Richard said, "Joining Spooks is a fantastic opportunity and I'm particularly pleased to be playing the hero for a change!" [1]
"He's definitely a good guy, but there's an element of mystery concerning who he's really working for." [2]
"He was an MI5 operative who was a predecessor of one of the characters in the original series. He was the best, the top of his field. He basically went to Russia on an operation and was caught and imprisoned for eight years.
"So he spent eight years in a Russian jail wondering why the British government had abandoned him. There is a spy swap at the beginning of series 7 and he is returned, but you're not quite sure whether he has come back with an agenda or if he is a double agent. He has to fight very hard to get back into the grid and back into the world of MI5. He's a bit of an outsider. In a way, there are parallels between Lucas and Guy [of Gisborne] in that respect - they're both on the outside trying desperately to get back in." [3]
"On the surface Lucas is an amiable character but eight years in a Russian prison has had a profound effect on him. His personality is divided between who he was before he was imprisoned, the prisoner and the person he has become. He has an outer façade which is personable, but underneath is somebody who has been through a big trauma. He is aware he is playing catch–up with the world. He was once the best in his field, and now he is trying to regain his former brilliance. He wants to be accepted back onto the Grid – it is the only aspect of his former life that has remained." [4]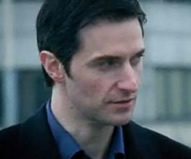 Richard was able to help create the character. "I went in and met [the producers] quite early on so I had a chance to form the character as they were forming him. It was great to have that input." [3]
"Series 7 has a very Russian flavour to it and it has a re-emergence of the cold war. It's slightly retro; there's a hark back to the old spy-espionage thrillers of the '60s. There's lots of old-fashioned trade craft going on there. The technological side of it is still there but there's lots of the old-fashioned lock picking and putting a hair over the door to see if people get in." [2]
Most of the filming for the series took place in and around London (see below), although some scenes were filmed in Moscow. Richard said, "Shooting in Russia was a great experience – we shot in many different locations. Even though Russia and Moscow have changed beyond recognition in the last decade, the dangerous aspects of it are still there – but perhaps that was in my imagination as I was travelling there as Lucas North. We were filming on the aeroplane so I had to arrive in costume and character! We shot footage during the flight and at the airport and used every second of the day we had there to shoot." [4]
Spooks was created by David Wolstencroft and was first broadcast in spring 2002. Set in Section 12 of MI5, it was successful with both the public and the critics, attracting average audiences of 7.5 million. Its high production values, intelligent scripts and excellent casts - both main cast and guest stars - have won it millions of fans in more than 20 countries around the world. (In the USA and some other countries, it's known as MI-5.)
Spooks won the award for Best Drama Series at the British Academy Television Awards in 2003 ('the BAFTAs'), also winning in the same category that year at The Royal Television Society Awards and the Broadcast Awards.
Its initial stars included Peter Firth, Matthew Macfadyen and Keeley Hawes. The latter two left the show in its third series, and Macfadyen's character, Tom Quinn, was replaced as Senior Case Officer of Section 12 by Adam Carter, played by Rupert Penry-Jones.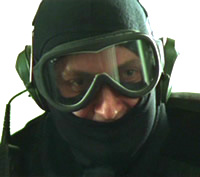 After four years, Rupert Penry-Jones left the show during this series. But Peter Firth, Hermione Norris, Gemma Jones and Hugh Simon returned to continue their roles in the new series, which was written by Neil Cross, Russell Lewis, Richard McBrien, Christian Spurrier and David Farr.
This is not Richard Armitage's first appearance in Spooks. Back in 2002, at the beginning of his television career, he had a small role as an armed policeman in the fourth episode of the first series (right).
Filming Spooks
This series of Spooks was filmed in various locations in London. These photographs, taken in March 2008 are courtesy of C19 member Trud and show the filming of a scene from episode 2 in a London street. (More pictures can be seen on the C19 messageboard.)
Links
BBC Spooks website
A&E's MI-5 website
BBC America's MI-5 website
Official website of the 'real' MI5
Kudos Film and Television (production company)

For further information about the show, including episode guides for past series, see the Spooks pages at Wikipedia, IMDB and TV.com.
Sources
[1] BBC Press release, 17th March 2008
[2] Show Patrol, 27th April 2008
[3] Entertainment Weekly, 1st August 2008
[4] Interview for BBC Programme Information feature (week 44, 2008), 8th October 2008