Robin Hood series 3 : Video clips
Episode 1 - Total Eclipse
"Gisborne!"
Robin Hood (Jonas Armstrong) has returned from the Holy Land. Still mourning the death of his wife Marian, he has only one aim - vengeance on Gisborne, her murderer. He goes to Locksley village to find him.
"Robin Hood is dead"
Sir Jasper, Prince John's envoy (Lee Ross), has come to Nottingham. Prince John is angry at the failure of the Sheriff (Keith Allen) to kill King Richard in the Holy Land, so he has levied a tax on the Sheriff - of 1000 crowns a month. The Sheriff is initially aghast, but then realises he has no choice but to pay the tax.
Meanwhile, Tuck (David Harewood) has found Robin Hood, unconscious, seemingly dead.
"Sir Guy, look at me"
Tuck goes to see Gisborne late at night.
"I live in hell"
In this short extract from the end of the episode, Robin, helped by Tuck, has broken into the castle to rescue Allan, Much and Little John, who were about to be executed by the Sheriff. Two of Robin's arrows have pinned Gisborne to the door of the castle, and he goes to confront his enemy.
"I don't like you"
Finally, this scene, set after Robin and his gang have escaped, sets up a new dynamic between the Sheriff and Gisborne.
Episode 2 - Cause and Effect
"Why should I fear you?"
This short scene underlines Guy's changed feelings towards the Sheriff.
"Seize her!"
Kate (Joanne Froggatt), a village girl from Locksley, has sneaked into the castle to try to save her brother. He was one of the villagers rounded up by Gisborne earlier - they are to be handed over as soldiers to fight for Finn, who is seeking the Irish throne. She had tried to prevent Gisborne taking her brother from the village, and now he recognises her in the castle.
"You should have killed me when you had the chance"
Robin Hood has been captured. Again...
Nb Richard Armitage does not appear in Episodes 3 and 4.
Episode 5 - Let the Games Commence
"You're still alive"
Gisborne has returned from the court of Prince John, where the Sheriff had sent him to what he assumed would be his death. But the Prince has sent Gisborne back with a troop of crack soldiers and instructions to kill Robin Hood. The Sheriff comes to visit him at his camp.
"Isabella!"
Robin Hood has rescued a woman called Isabella (Lara Pulver), who was being pursued by two men on horseback. Gisborne and his men have been chasing the outlaws all over the forest. Robin, his gang and Isabella come across Gisborne's camp, now empty.
"You're a foolish girl"
Robin Hood has not only escaped from Gisborne once again, but he has routed Gisborne's men. Now Isabella wants to know why he married her off to Squire Thornton at 13 years of age.
Episode 6 - Do You Love Me?
"Do you love me?"
Prince John (Toby Stephens) has a slumbering Gisborne dragged to his quarters in the middle of the night to request a special favour.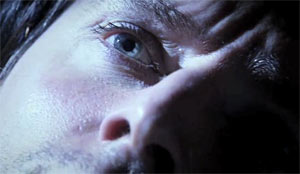 Watch the clip
"Unity"
Prince John has ordered Gisborne to kill the Sheriff. However, the Sheriff senses something is not quite right...
"You represent everything that is loathesome in a man!"
Gisborne and the Sheriff are set against each other in a fight to the death.
Episode 7 - Too Hot to Handle
"I've set her a little trap"
Prince John has seen Isabella with Robin Hood and is suspicious of her loyalties.
"How could you do this to me, Isabella?"
Isabella has fallen into the Prince's trap. Gisborne watches as she meets Robin to tell him what the Prince has done to the spring. He confronts her and Robin - to fulfil his promise to the Prince, they must both die.
Episode 8 - The King is Dead, Long Live the King
"Hello, sister"
King Richard's death has been proclaimed, and Prince John is to be crowned. Isabella returns to Locksley Manor late at night to find Guy, now an outlaw, waiting for her.
"How did you sleep?"
The next morning at Locksley Manor...
Episode 9 - A Dangerous Deal
Most of Guy's scenes in this episode take place in the castle dungeon where he awaits his execution, having been sentenced to death by his sister Isabella, the new Sheriff of Nottingham.
With him in the dungeon is Meg (Holliday Grainger), a young woman who has been thrown into jail by Isabella's husband. Initially antagonistic towards each other, over the course of several scenes Guy and Meg draw closer.
"What are you staring at?"
In this first scene, Meg is thrown into the dungeon.
"Just leave it"
Their sniping at each other continues...
"Are you scared?"
In this scene, their talk turns to Guy's impending execution.
"You must eat"
Isabella has now released Meg from the dungeon. But Meg secretly returns with some food for Guy.
The next morning, Guy is led out to the castle courtyard to be executed. Guy and Meg's story plays out over the remainder of the episode, a moving counterpoint to the heroics of Robin and his gang.
This isn't the first time that Richard Armitage and Holliday Grainger have worked together. In the 2002 drama Sparkhouse, she played Lisa, the daughter of Carol Bolton, with whom his character John Standring was in love.
Episode 10 - Bad Blood
"You're jumpy"
Gisborne is alone in the forest, wary of who might be following him.
"Who's done this?"
Robin and Guy regain consciousness, and find themselves bound hand and foot. They're prisoners of a mysterious hooded stranger.
And so the stranger tells them what happened all those years ago...
Episode 11 - The Enemy of my Enemy
"He's one of us"
In the first scene of the episode, Robin and Guy ride through the forest together, bound by a common goal.
"I've a plan"
Robin and Guy have arrived in York, intent on rescuing their half-brother Archer from the dungeon of York Castle, where he faces execution. But how?
"I know what poor is"
Having rescued Archer (Clive Standen) and all the other prisoners from the dungeon, Robin and Guy now have to find their way out of the castle.
Episode 12 - Something Worth Fighting For (part 1)
"We take the castle"
Robin and his gang have intercepted a letter to Isabella revealing that King Richard is on his way home from the Holy Land. In this scene, they plan how they can capture the castle and hold it until the king returns. Meanwhile Archer is also trying to find out, from an old man in a tavern, how to break into the castle.
"This is it"
Gisborne leads Robin and Much (Sam Troughton) to the entrance to the tunnel that will take them into the castle.
Episode 13 - Something Worth Fighting For (part 2)
"I do this for our mother's sake."
Gisborne, Robin and the outlaws are trapped in Nottingham Castle, surrounded by the Sheriff's men. They have thrown Isabella into the dungeon. In this scene, Guy goes to see her there.
"This ends here!"
Isabella has escaped from the dungeon. She slips down into the tunnel which leads out of the castle, and Guy follows her.
* Spoiler warning * This is Gisborne's final scene of the episode.
Copyright BBC.
(The clips will open in a separate window. They require the latest version of Flash - you'll be given a chance to download this if you don't already have it. )
Problems with the video clips?