Robin Hood series 3 : Production details and DVDs

The 13 episodes of Series 3 of Robin Hood were first broadcast on BBC One from March 2009.
| | |
| --- | --- |
| Robin Hood | Jonas Armstrong |
| Sir Guy of Gisborne | Richard Armitage |
| Sheriff of Nottingham | Keith Allen |
| Tuck | David Harewood |
| Much | Sam Troughton |
| Little John | Gordon Kennedy |
| Allan A Dale | Joe Armstrong |
| Isabella | Lara Pulver |
| Kate | Joanne Froggatt |
| Prince John | Toby Stephens |
| | |
| Created by | Dominic Minghella, Foz Allan |
| Executive producers | Foz Allan, Greg Brenman, Julie Gardener |
| Writers | Simon Ashford, Michael Chaplin, Holly Phillips, Ryan Craig |
| Producers | Jane Hudson, Tom Mullens |

Produced by Tiger Aspect for the BBC.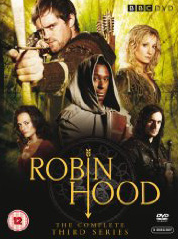 The Region 2 DVD boxset of the third series has been released. It can be ordered at Amazon UK
and Amazon Germany. The extras include:
'A Legend Reborn', a 30 minute feature about the series, including interviews with Jonas Armstrong, Richard Armitage, David Harewood, Lara Pulver, Clive Standen, Joanne Froggatt, Gordon Kennedy and Sam Troughton.
'A New Look', a 7 minute feature in which the costume designer for the third series, Howard Burden, describes the costumes for Robin, Tuck, Isabella and Gisborne. Richard Armitage comments on his costume.
'Trebuchet: Creating Chaos', a short feature in which the set designer, Stephen Campbell, describes the mighty weapons built for the siege in episode 13.
Character profiles of Tuck, Kate, Isabella and Archer, which include interviews with various cast members.
Video diaries by Lara Pulver and Clive Standen. Both of them cover the day when the fight scene in the tunnel (in episode 13) was rehearsed and filmed.

There is also Dutch DVD set, in English with Dutch subtitles. And a French DVD boxset has also been released.
The region 1 DVD of season 3 was released in January 2010 and can be ordered at Amazon USA and the BBC America shop. It includes the same extras as the Region 2 DVD.
In Australia, the Region 4 DVD was released on 1st July 2010.
In May 2010, Just Entertainment released a DVD set of all three series of Robin Hood with Dutch subtitles. Entitled "Robin Hood - The Legend Returns", it contains the same extras as the series 3 DVD boxset.
Six audiobooks read by cast members, including Richard Armitage, have been released by Big Finish. See the Robin Hood series 3 Audiobooks page for further details.