Miss Marie Lloyd - Queen of the Music Hall
"Percy is quite a tricky character, quite ambiguous, I suppose, because you think he's one thing and then he turns really unexpectedly."
[1]
In May 2007, Richard Armitage appeared in a BBC Four drama about the life of music-hall star Marie Lloyd.
Jessie Wallace (EastEnders) starred as Marie Lloyd, who reigned supreme in the music halls of the turn of the 20th century, but whose troubled private life scandalised polite society. Richard Armitage played Percy Courtenay, the first of her three husbands.

Martyn Hesford dramatised the life of the woman who was known for her bawdy rendition of songs like "My Old Man Said Follow The Van" and "A Little Of What You Fancy Does You Good". She was born Matilda Wood in 1870 and was already singing in the music halls in her teens. At the age of 17, and pregnant, she married Percy Courtenay, pretending to be 18 to do so. (The photo shows the wedding being filmed in London in February 2007.)

The marriage was not a happy one. They had a daughter, Marie, but Percy had no regular job and spent most of his time at the race-tracks as a tout. He also drank heavily and he abused her. By 1893, they were living apart, but Percy continued to cause trouble by hanging around stage doors and threatening her. They were finally divorced in 1905.

She married twice more, but her private life remained unhappy, and she died in 1922. Such was her popularity that one hundred thousand people lined the streets of the East End to see her funeral procession. Footage of her funeral was actually used in the drama.

Jessie Wallace said of her, "Marie Lloyd was outgoing, outrageous, incredibly successful, way ahead of her time and such a strong and brave woman. She did things that other Victorian women wouldn't have dreamt of doing. She was her own woman; she spoke up against inequality and said what she thought." [1]

She was one of the first modern celebrities. As producer Rhonda Smith said, "Rather like today, she was followed a lot by the press and I think at times maybe she didn't help herself as she knew she needed them as much as they needed her." Richard Armitage added, "If there had been an Edwardian OK! Magazine, she would have been on the front cover most weeks." [1]

Even trivial matters were reported, as when she lost a diamond brooch in 1896.

"Miss Marie Lloyd had the misfortune to lose her diamond brooch at the Metropolitan Music-hall on Friday last. She had the brooch on when she entered her dressing room. The piece of jewellery consists of the name, MARIE. Miss Lloyd will be pleased to remunerate the finder." [2]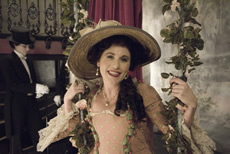 'Miss Marie Lloyd- Queen of the Music Hall' is not a simple biography of Marie Lloyd's life. Director James Hawes explained, "From the beginning we knew it was not going to be a blow-by-blow account biopic, that Marie Lloyd had dealt in dreams, and somehow the film should deal with fantasy too. We based ourselves in fact, but we played fast and loose with the atmosphere. We had a feel for the world – the sleazy music hall, the glossy music hall, the vibrancy of that world. We wanted a sense of the colour and magic that the music hall meant to London at the time." [1]

The drama was filmed in various locations in London, beginning, by a happy coincidence, on Marie Lloyd's birthday, 12th February. Three theatres were used for the scenes in the music halls. One of them was Hoxton Hall, a small theatre in the East End, which has been restored and is still in use as a theatre. Several on-stage, auditorium and backstage scenes were filmed there.

A rather larger Victorian theatre in Teddington, Normansfield Theatre, was another location. Renovated a few years ago, it provided a larger stage and was also the setting for other backstage scenes. Several original backcloths from the theatre, recently restored, were used. Grandest of all was Richmond Theatre, used for scenes later in her career when she was at the height of her popularity. Other locations included a house in Bayswater where Lily Langtry once lived, and a perfectly preserved Victorian pub, complete with gas lights.

For all the scandal and unhappiness of her private life, Marie Lloyd was above all an entertainer, as this review of her appearance in 1899 at Collin's Music Hall in Islington Green shows.

"A most cordial greeting awaits Miss Marie Lloyd, as bright, as gay, and as insouciant as ever. Like the true artist she is, Miss Lloyd presents some striking contrasts in her impersonations. What a remarkable difference there is, for instance, between the rather vulgar young person who, in bloomers of a very loud pattern, goes "biking in the park" and the modest-looking damsel from the country who has never "lost her last train yet!" The clever comedienne can just as readily portray the shy rustic maid as the hoydenish London slavey out for a holiday, and rejoicing in the sensation she is creating amongst the spectators of her performance. Most enthusiastic is the popular little lady's reception at "the hall by the green"." [3]

Links

BBC Press Pack for The Edwardians series
BBC Four page for The Edwardians series
Wikipedia entry for Marie Lloyd
Hat Trick Productions
Hoxton Hall (theatre)
Langdon Down Centre (Normansfield Theatre)
Richmond Theatre
Sources

[1] Hat Trick Productions press pack
[2] The Encore, 21st May 1896
[3] The Era, 9th September 1899