Macbeth : Production details and DVDs
This Royal Shakespeare Company production opened at The Swan Theatre, Stratford-on-Avon on 2nd November 1999.

In addition to performances at the Swan, Macbeth in 2000 toured to:
Brighton Theatre Royal from 24th January (7 perfs);
Bath Theatre Royal from 1st February (7 perfs);
The Globe, Tokyo, Japan from 24th March (18 perfs);
The Young Vic, London from 10th April (48 perfs);
Long Wharf Theatre, New Haven, USA from 15th June (13 perfs), closing on 25th June.

The production was filmed for television in 2000, and broadcast on 1st January 2001 on Channel 4, with the entire cast from the 1999 production.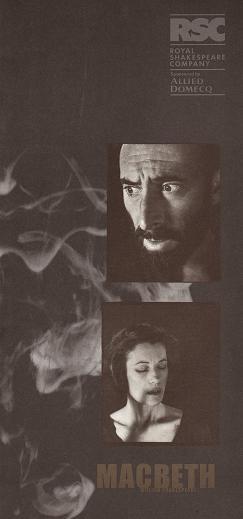 Soldier - Jeff Alexander
Angus - Richard Armitage
Lady Macduff - Diana Beck
Banquo - Ken Bones
Macbeth's Servant - Glenn Chapman
Macduff - Nigel Cooke
Malcolm - John Dougall
Weird Sister - Noma Dumezweni
Young Macduff (alt) - Graeme Flynn
Fleance (alt) - Jonathan Gumbley
Gentlewoman - Polly Kemp
Weird Sister - Polly Kemp
Bloody Captain - John Killoran
Menteth - John Killoran
Doctor - Trevor Martin
Old Man- Trevor Martin
Lennox - Guy Moore
Porter - Stephen Noonan
Seyton - Stephen Noonan
Duncan - Joseph O'Conor
Fleance (alt) - Lee Rice
Macbeth - Antony Sher
Lady Macbeth - Harriet Walter
Ross - Paul Webster
Donalbain - Robert Whitelock
Young Seyward - Robert Whitelock
Young Macduff (alt) - Gareth Williams

For the RSC theatre production:
Director - Gregory Doran
Fight Arranger - Terry King
Music - Adrian Lee
Designer - Stephen Brimson Lewis
Light Designer - Tim Mitchell
Movement - Sian Williams

For the filmed production:
Director - Gregory Doran
Producers - John Wyver, Sebastian Grant
Art Director - James Hendy
Music - Adrian Lee
Fight Director - Terry King
Costume/production designer - Stephen Brimson Lewis
Director of Photography - Ernie Vincze BSC

The film of the production is available on Region 2 DVD at Amazon UK
and Amazon Germany.