The Hobbit : Miscellany
A miscellany of news, information and comment about the Hobbit films.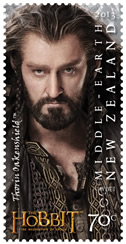 New stamps and coins New Zealand Post is releasing another set of Hobbit stamps and coins, this time related to The Hobbit: The Desolation of Smaug. Thorin Oakenshield is featured on one of the stamps (see right) and he and the other dwarves are pictured on a set of silver coins. His image is also used on one of the six miniature first day covers, a self adhesive booklet, a postcard and a gummed miniature sheet. Follow the links to buy, or see all the available products at the New Zealand Post website
New Zealand, Home of Hobbiton Several of the cast and crew of The Hobbit have taken part in a promotional film for Tourism New Zealand that appears as an extra on the DVD of The Hobbit: An Unexpected Journey. Richard Armitage, Ian McKellen, Martin Freeman, James Nesbitt, Peter Jackson and many others speak about their experiences of filming in New Zealand. Richard said, "I could have spent this entire shoot on location. We saw so many incredible places."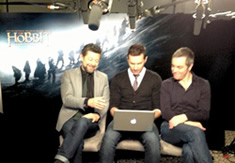 Thorin, Gollum and Bofur on Twitter On 6th March 2013, Richard Armitage joined Andy Serkis and James Nesbitt to answer questions over Twitter.
The session was hosted by @TheHobbitMovie where the conversation can be seen (or see this screenshot of the tweets that day, including a full-size view of the picture on the left).
Among other things, Richard revealed a fondness for chocolate ice-cream, that he would like to visit Peru and climb Machu Picchu, and that the three people he would most like to have dinner with would be Richard III, John F. Kennedy and Ian McKellen.
Asked what characteristics he admired of Thorin and which ones he recognised in himself, he answered, "His nobility and bending will to succeed. We share a propensity for a bad temper and anxiety of care." And his favourite part of playing Thorin? "1.) Making him fight. 2.) Trying to rationalize his madness. "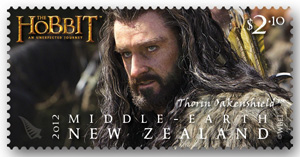 The Hobbit featured on stamps and coins In October 2012, New Zealand Post announced that it would be releasing several coins and a set of stamps to commemorate The Hobbit : An Unexpected Journey.
Thorin Oakenshield appears on the $2.10 stamp (shown on the right), and he is also featured on three of the coins, which will be legal tender.
The New Zealand Herald and Collider.com, among others, reported the news. The stamps and coins can be ordered from the New Zealand Post's website. Thorin appears on a gold-coloured $1 coin, a silver $1 coin, and a pure gold $10 coin.
Three Hobbit films Peter Jackson originally intended the tell the story of The Hobbit in two films. But as principal photography came to an end, rumours began to circulate that he wanted to create three films. In July 2012 he confirmed the rumours in an article on his Facebook page.
"It is only at the end of a shoot that you finally get the chance to sit down and have a look at the film you have made. Recently Fran, Phil and I did just this when we watched for the first time an early cut of the first movie - and a large chunk of the second. We were really pleased with the way the story was coming together, in particular, the strength of the characters and the cast who have brought them to life. All of which gave rise to a simple question: do we take this chance to tell more of the tale? And the answer from our perspective as the filmmakers, and as fans, was an unreserved 'yes.' [...]
"So, without further ado and on behalf of New Line Cinema, Warner Bros. Pictures, Metro-Goldwyn-Mayer, Wingnut Films, and the entire cast and crew of "The Hobbit" films, I'd like to announce that two films will become three."
Sir Ian McKellen's one-man show Richard Armitage was among the cast members of The Hobbit who joined Sir Ian McKellen on stage at the Wellington Opera House on 23rd June (see YouTube; Richard Armitage, bearded, is initially on the right hand side of the stage and later at the back).
It was the penultimate performance of a one-man show, 'Ian McKellen On Stage: with Shakespeare, Tolkien and You' that he played across New Zealand to raise money to help repair the Isaac Theatre Royal in Christchurch, which was damaged in the 2011 earthquake.
Several pictures of the evening have been posted online, eg here (see Richard Armitage far right), here (at the back of the stage, and with a fan) and here.
Brits on the brink Richard was one of five British actors mentioned on Cineplex.com's Movieblog in June 2012 as being on the brink of international stardom. "After starring in numerous well-received UK television productions as a deliciously evil baddie (Robin Hood), conflicted spy (Spooks) or brooding hero to rival even Colin Firth's Darcy (North & South), it's clear he's got talent and range to spare," it says of Richard Armitage. The other actors listed are Benedict Cumberbatch, Tom Hiddleston, Martin Freeman and Eddie Redmayne.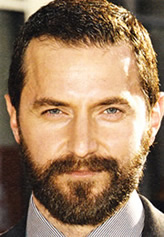 The breakout star of The Hobbit? NextMovie.com published an article in April 2012 discussing which of The Hobbit's large cast might benefit the most from the exposure that comes with being part of such an important film. The first actor on Larry D Curtis's list was Richard Armitage.
He is, said Curtis, "rich with talent, and his role as emotionally tortured dwarf Thorin Oakenshield will let him showcase his abilities. Thorin is complex and conflicted, will have his fair share of screen time and will also be the most heroic dwarf in Bilbo's company. And, as we already know from the films' single trailer, he gets to use his trademark baritone voice."
After discussing several other cast members, he concluded "In terms of skyrocketing career moves, Armitage will be the ultimate winner. Thorin will be a more important part of this film than many realize and the Shakespearian tragedy elements, with his talent and good looks, make this a perfect situation for him."
Hobbit filming report Quint of AintItCool.com was given permission to observe the filming of The Hobbit. In his fifth report from the set, in November 20122, he described a scene between Richard Armitage (Thorin) and Ian McKellen (Gandalf).
"This scene is all about Thorin and my first real chance at seeing Richard Armitage craft a layered performance with the character. Thorin's a stubborn dwarf, very much a leader, but is smart enough to heed the council of Gandalf. He is a man torn in this scene. His deep resentment at the elves (he believes they have betrayed his ancestors by not stepping in when they needed their help) pulls him one way, but his respect for Gandalf pulls him the other. [...]
Armitage does a great job with Thorin's inner struggle. The look on his face isn't someone locked into a decision. Gandalf urges him to seek Elrond's help, for the good of the quest. Instead of playing it like a stone-faced general, Armitage does weigh his options and mostly in reaction to Gandalf's words, not in his own dialogue.
In other words he conveys the struggle with his face, giving Thorin a depth I was anticipating. I'm sure the inclination would be for Armitage to play it stubborn and he does, but he layers it with some real emotion."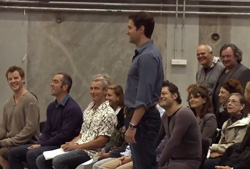 Powhiri welcoming ceremony On the first day of filming, 21st March 2011, a Powhiri welcoming ceremony took place on the sound stage of the studis in Wellington. Richard Armitage spoke on behalf of the cast, in Maori (right). The ceremony can be seen on Peter Jackson's first production video (at approximately 8 minutes into the video).
Peter Jackson on filming The Hobbit In April 2011, director Peter Jackson posted an article on his Facebook page about his decision to film The Hobbit at 48 frames per second, twice the normal speed.
He says of 48 fps film, "It looks much more lifelike, and it is much easier to watch, especially in 3-D. We've been watching HOBBIT tests and dailies at 48 fps now for several months, and we often sit through two hours worth of footage without getting any eye strain from the 3-D. It looks great, and we've actually become used to it now, to the point that other film experiences look a little primitive. I saw a new movie in the cinema on Sunday and I kept getting distracted by the juddery panning and blurring. We're getting spoilt!"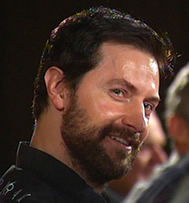 The Hobbit press conference The cast of The Hobbit held a press conference in Wellington, New Zealand on Friday 11th February 2011. Director Peter Jackson was unable to attend, having been told by doctors to rest at home after his emergency surgery for a perforated stomach ulcer, but a statement from him was read out at the press conference.
Martin Freeman, Richard Armitage and the other actors playing the dwarves talked for more than half an hour in a relaxed and light-hearted atmosphere about the film and their thoughts on being in New Zealand to shoot it - they arrived several weeks ago to begin preparations for the filming.
Richard was asked a series of questions towards the end of the press conference. Asked why he wanted the play the part of Thorin, he said, "I just think it's a really amazing opportunity to take a character from a book that I was brought to as a child. My first experience on stage was in a production of The Hobbit at the Alex Theatre in Birmingham, and I played an elf. And Gollum was a papier-mache puppet with a man offstage on a microphone. It's been in my childhood very prominently, so to come to it as an adult, a middle-aged man, and have another look at it is a brilliant opportunity."
He was then asked whether he was looking forward to acting against green screens. He replied, "Yes, I was in the mocap studio yesterday actually, which is a first for me. I've never quite understood the technology behind it but it really does appear that it's like being in Avatar the movie and I'm quite looking forward to that. But also, with this film in particular, there's enough creative genius in terms of the art department and the technological department, but at the same time I do think we're going to get out there in nature and really experience this, possibly more so than a purely technical film, which is really exciting - it's a good marriage of both."
Finally, he was asked if he was looking forward to being covered in prosthetics - there's been much speculation about whether the dwarves would be wearing false beards etc. "We don't know yet actually. It's still up for grabs," adding, as he rubbed his beard, "hence a little bit of experimentation in the facial hair department."
This report on the 3News website includes links to a video of the full press conference (the questions to Richard start at 26 minutes) and pictures taken at the event. Stuff has an edited video of the event, or see just Richard's contribution on this YouTube video. TheOneRing site has a more detailed report. And the New Zealand Herald (11th February) - also online - carried a report of the press conference.