Captain America : The First Avenger
Richard Armitage played Heinz Kruger in the Paramount Pictures/Marvel Studios film of Captain America : The First Avenger.
Although the role of Kruger was a relatively small one, this was Richard Armitage's first part in a major Hollywood film.
Captain America : The First Avenger was directed by Joe Johnston and was released in most countries in summer 2011.
Captain America, played in the film by Chris Evans, is a character who first appeared in 1941 in comic-books published in America by Timely Comics (later Marvel Comics). Created from a US Army reject called Steve Rogers, a weakling who is enhanced with a top-secret serum, he becomes a patriotic superhero who fights the Nazis during World War II (although his stories continued for many years after the war had ended). His nemesis is The Red Skull (Hugo Weaving), Hitler's head of advanced weaponry, whose top assassin is Heinz Kruger (Richard Armitage).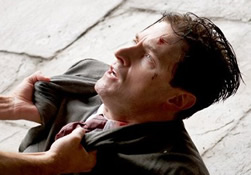 Other cast members include Stanley Tucci as Dr Abraham Erskine, the scientist who invents the serum that transforms Steve Rogers into the mighty Captain America, Hayley Atwell as Peggy Carter, a freedom fighter and love interest of the Captain, Tommy Lee Jones as Col Chester Phillips, as well as British actors Dominic Cooper and JJ Feild.
Kruger appears early in the film and features in the first big action sequence, as the newly transformed Steve Rogers chases him through Manhattan and then follows him as he attempts to escape in a mini-submarine.
In reality, these scenes were filmed in England. During September 2010, part of Manchester's Northern Quarter was transformed into 1940s New York. In the 19th century, this area became the commercial heart of the burgeoning cotton city, containing textile warehouses, offices for manufacturers' agents and shops. In spite of redevelopment, many of the 19th and early 20th century buildings remain, forming a cityscape that, with some re-dressing of street-level frontages, easily became 1940s Manhattan. Filming took place in Dale Street, one of the major roads crossing the Northern Quarter, and Tariff St.
Also in September, other scenes, including some with Heinz Kruger's mini-sub, were filmed in the docks in Liverpool. (See below for links to pictures and videos of filming in Liverpool and Manchester.) Other scenes were shot in Aldershot, Farnham, Culross (Scotland), Caerwent (Wales), and at Shepperton Studios, where, coincidentally, Richard Armitage filmed The Vicar of Dibley.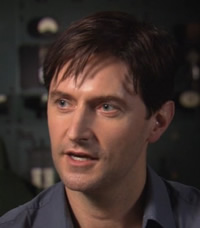 Speaking in a video interview about the role of Heinz Kruger (right), Richard said "It's really great to play a bad guy. But I really tried not to play him as a bad guy. I wanted him to be human. I wanted him to be the kind of spy that had a moral conscience, so he's not just a tool, he really believes that he's fighting for the fatherland. I think it's very easy to say that most people that operated in this period didn't really know what was going on right at the centre and I think that's probably true. But I think everyone has to have a real moral compass and really desire to do the right thing for their own country and I wanted him to be more like that than somebody that believed he was bad." [1]
And in a featurette about the making of the film, he said "It's one of those gifts when you work on a film, when you work with an art department as brilliant as these guys are. It's 60% of the work in stimulating your imagination." [2]
The world premiere of the film was held at the El Capitan Theater in Los Angeles on 19th July 2011. Richard was among the cast and crew who were present, and he was interviewed on the red carpet by AP Live and Marvel.
Captain America: The First Avenger official movie site
Captain America: The First Avenger page at IMDB
Captain America: The First Avenger hub page at Marvel.com
Trailer - small version, large version
Wikipedia articles about Captain America, the comic-book superhero, and about the film, Captain America: The First Avenger
Articles about the character Heinz Kruger (in the Marvel comics) at the Marvel Database and at the Appendix to the Handbook of the Marvel Universe (beware spoilers)
Information, pictures and video clips of filming in Liverpool and Manchester:
BBC News report: "Captain America production heads for Manchester"
BBC Manchester pictures: "Captain America film set on Manchester street"
Hobbsy.com's pictures and videos of the filming in Manchester, including some pictures of Richard Armitage on the set but not in costume
Liverpool Echo report: "Captain America begins filming in Liverpool"
Liverpool Echo report: "REVEALED: First pictures of Captain America submarine on set in Liverpool"
Sources
[1] Video interview, TrailerAddict website
[2] Epix Captain America featurette no 2