The Ted Hughes Letters
Richard Armitage read from the letters of the poet Ted Hughes in BBC Radio 4's Afternoon Play on 29th October 2007.
Ted Hughes (1930-1998) is considered one of the finest British poets of the 20th century and was Poet Laureate from 1984 until his death. His first wife, American poet Sylvia Plath, committed suicide a few months after they separated and their life together has been the subject of much controversy and speculation. Although primarily a poet, his work also encompassed stories for children and much other writing besides.

His letters, including many to Plath, to his brother and sister, to his children and to friends and academics, were published in autumn 2007 and formed the basis of this programme, which, in spite of being broadcast in the Afternoon Play series, was not actually a drama.
Novelist Jane Feaver, who knew Ted Hughes when she worked for his publisher, Faber & Faber, chose the letters that Richard Armitage read, introducing each one so that the programme created a narrative of his life and work.
The letters ranged over many subjects and moods, but some were deeply personal, none more so than those he wrote after the death of his wife Sylvia, and later of his lover Assia and daughter Shura. These latter, movingly read by Richard Armitage, were full of shock and regret. The programme ended with a reading of 'Song', a poem written by Hughes at the age of 19, "the one song I sang in Arcadia."
O lady, when the tipped cup of the moon blessed you
You became soft fire with a cloud's grace;
The difficult stars swam for eyes in your face;
You stood, and your shadow was my place:
You turned, your shadow turned to ice
O my lady.
The Ted Hughes Letters was chosen as the Pick of Day in The Sunday Times (28th October) among others. Reviewing the programme in The Daily Telegraph (30th October) Gillian Reynolds said:
"Jane Feaver's linking narration had the simplicity that comes from long thought and a brilliant gift for concision. The letters and the final, clinching poem were read, beautifully, by Richard Armitage, not in an imitation of Hughes's real voice, familiar over the years from the radio, yet with warm fidelity to its tone and measure."

Extracts from the programme can be heard here...
See below for information about Ted Hughes' life, his work, the letters and also links to sources of further information, including extracts from the letters and recordings of him reading his poems.
Life
Hughes was born in Mytholmroyd, Yorkshire, a small town not far from Hebden Bridge. His family later moved to the coal-mining town of Mexborough in South Yorkshire where he attended Mexborough Grammar School. He was already writing poetry, some of which was published in the school magazine. The family were not happy in Mexborough and they later moved back to Heptonstall, a few miles from Mytholmroyd.

He went up to Pembroke College, Cambridge, in 1951 after two years of National Service in the RAF. He initially studied English hoping that it would help his writing, but he found instead that it stifled his muse, so he switched to anthropology and archaeology, graduating in 1954. Two years later he met Sylvia Plath, then studying in Cambridge on a Fulbright scholarship. Four months later, they were married.

In 1957, Hughes' first book of poetry, The Hawk in the Rain
, was published to critical acclaim in Britain and the USA. He and Plath moved to America later that year, living and working for a while in Massachusetts. But they later returned to England, settling in Devon in1961.

They had two children, Frieda and Nicholas. But by the summer of 1962, Hughes had started an affair with Assia Wevill, and a few months later he and Plath separated. In February of the following year, Plath killed herself. For the next three years, Hughes stopped writing poetry and devoted himself to editing and publishing her poems.
Hughes never married Assia Wevill, although they had a daughter together (Shura). In 1969, Wevill also committed suicide, killing her daughter as well.

In 1970, he married Carol Orchard. Although there were many other affairs, they remained married until his death in Devon in 1998.
His work won numerous awards, including two Whitbread Prizes. As well as the Poet Laureateship, he was awarded an OBE in 1977 and was appointed a member of the Order of Merit in 1998, one of the rarest of all British honours.

Work
"It is occasionally possible, just for brief moments, to find the words that will unlock the doors of all those many mansions in the head and express something – perhaps not much, just something – of the crush of information that presses in on us from the way a crow flies over and the way a man walks and the look of a street and from what we did one day a dozen years ago. Words that will express something of the deep complexity that makes us precisely the way we are ." [1]
Ted Hughes is one of the most important poetic voices of the 20th century. His childhood and upbringing were rooted in the Yorkshire countryside of Calderdale and of the Don Valley, contrasting landscapes of magnificence and harshness, both bearing the scars of human activity. As a result, his work draws its inspiration directly from the natural world, which he celebrates in all its beauty and savagery. His work explores the deep connection between human beings and the world they inhabit, finding in plants, animals, the natural landscape and physical laws a muscular and direct poetic language to express his sense of unity between the physical and the spiritual. He turns an unflinching gaze on cruelty and death, side by side with beauty and wonder. (His poem 'Pike' is an example of this, celebrating the cannibalistic savagery, splendour and durability of the pike he used to stalk in a medieval pond). Strongly influenced by his study of anthropology, he also draws on ancient and primitive systems of knowledge and belief: shamanism, alchemy, even astrology, to underpin his work.
Although his life was overshadowed by the tragedies of Sylvia Plath and Assia Wevill, and he shunned all attention to his private life until his last years, in terms of his work he saw the role of the poet as a public one. He sought to communicate directly with his audience, writing for all ages. He was a careful and sincere commentator on his own work and critic of others'. His writing for children was very important to him, and his work, especially The Iron Man, immensely influential. He saw himself as an educator, as well as an imaginative writer for the young. He broadcast to schools on poetry (see the quote from Poetry in the Making, above), and he collaborated with Seamus Heaney, another towering figure in British poetry, on two anthologies of poetry for children: The Rattle Bag, and The School Bag. He also visited local schools, reading his poetry to rapt young audiences. He seemed to know instinctively how to reach into the minds of children, and they responded to it.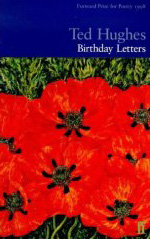 His poetic voice never faltered, and the work he produced close to his death is among his finest. Having stayed resolutely silent on his relationship with Sylvia Plath, he astonished the world by laying bare his version of their life together in Birthday Letters
, published when he knew he had not much time left to live. The dignity, candour and pain he displayed in this work did much to shift the controversy that had raged over the life and death of Sylvia Plath onto new ground.
Writing to a friend at the time of its publication, he said, "It was in a kind of desperation that I finally did publish [the poems]. I had always thought them too inexplicably raw and unguarded, simply too vulnerable. But then I just could not endure being blocked any longer. How strange that we have to make these public declarations of our secrets, but we do. If only I had done the equivalent 30 years ago, I might have had a more fruitful career - certainly a freer psychological life." [2]
In keeping with his lifelong desire to connect with his audience, he recorded his poems, so that they became one with his granite voice and distinctive accent, explaining his work with clarity and elegance. To hear some of his poems, read by him with his own commentary, go to The Poetry Archive (warning: the poem 'February 17th' which describes the death of a lamb is not for the faint-hearted).
His collections of poetry include: The Hawk in the Rain (1957), Pike (1959), Lupercal (1960), Crow (1971), Cave Birds (1979), Remains of Elmet (1979), Moortown (1980), Selected Poems 1957-1981 (1982), Flowers and Insects (1986), Wolfwatching
(1990) and Birthday Letters (1998)
Letters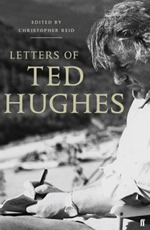 Ted Hughes was a prolific correspondent throughout his life. In autumn 2007, a selection of his letters was published, having been edited by Christopher Reid, his editor at Faber & Faber for the last 8 years of his life. Despite running to almost 800 pages, the Letters of Ted Hughes
contains only a tiny proportion of the many letters he wrote to family, friends, colleagues, readers and others, and which are now held privately or in libraries and archives throughout the world, mainly in the UK and North America.
Keith Sagar, who wrote his entry in the Oxford Dictionary of National Biography, said, "His letters make wonderful reading, whether they are about his work in progress, other writing, the spirit of place, or more personal and mundane matters." [3]
While many of his correspondents are well-known – his first wife Sylvia Plath, her mother Aurelia, his lover Assia Wevill, public figures in the arts and politics and poets like Seamus Heaney, Tom Paulin and Adrian Mitchell - there is evidence here too of his willingness to engage with ordinary readers, students of his work and aspiring writers, to whose letters (even those he describes as 'strange') he invariably responded with generosity and forthright directness.
The letters in the collection cover the period from 1947/8, when Hughes was 17 and a pupil at Mexborough Grammar School, to 1998, the year of his death. They range very widely over poetry, politics, wildlife, the environment, education, religion and more, and include not only lengthy, detailed discussions of Hughes' work, but also intensely personal correspondence with Sylvia Plath and Assia Wevill, and letters written to friends and family in the immediate aftermath of their deaths. They are poignantly revealing of this famously private man.
In his Editor's Introduction, Reid writes of the letters he received from the poet during the time they worked together, some of which are included in the collection:
'They were like none I had ever received before. Dealing with publishing affairs, they were invariably direct and businesslike, with an extra ingredient of confidentiality and candour that at first surprised me. In addition though….they were written with so much more concentration, force, choiceness of expression, vocal immediacy, grace and wit than the occasion usually, if ever, demanded. The word that perhaps best suited them was generous.' [4]
The Ted Hughes Home Page, Ann Skea's scholarly site about Hughes. Includes a timeline of his life and many articles about his work.

Earth-Moon, another excellent website about Hughes' life and work.

'A Tribute to the Poet Ted Hughes', a video in which Hughes discusses his work and reads from it.

The Poetry Archive's page about Ted Hughes, including information about his life and work, and recordings from the BBC archives of him talking about and reading 'Pike' and 'February 17th'

Recording of Ted Hughes reading 'The Thought Fox', hosted by Harper Collins (from their audiobook 'Ted Hughes Reading His Poetry', available from Amazon UK on CD
or cassette
).

PoemHunter, containing the text of several of Hughes' poems.

Extracts from the letters, serialised by the Daily Telegraph in three parts: Part 1, part 2, part 3.
A review by Peter Stothard of The Letters of Ted Hughes in The Times, 19th October 2007.
Ted Hughes at Amazon UK:
Life - Ariel's Gift: Ted Hughes, Sylvia Plath, and the Story of "Birthday Letters" , Ted Hughes: The Life of a Poet
Work - Collected Poems of Ted Hughes, The Hawk in the Rain, Lupercal, Crow, Elmet
,
Wolfwatching
, Birthday Letters, The Iron Man, Collected Poems for Children, Poetry in the Making

Letters - Letters of Ted Hughes
Ted Hughes at Amazon USA:
Life - Ariel's Gift: Ted Hughes, Sylvia Plath, and the Story of "Birthday Letters", Ted Hughes: The Life of a Poet

Work - Collected Poems, The Hawk in the Rain, Lupercal, Crow, Elmet, Wolfwatching
, Birthday Letters, The Iron Man, Collected Poems for Children, Poetry in the Making
Letters - Letters of Ted Hughes
Sources
[1] Ted Hughes, Poetry in the Making, Faber & Faber, 1967
[2] Ted Hughes, letter to a friend, quoted in Ariel's Gift, by Erica Wagner, Faber & Faber, 2000
[3] Keith Sagar, 'Hughes, Edward James (1930–1998)', Oxford Dictionary of National Biography, Oxford University Press, Sept 2004
[4] Christopher Reid (ed.) Letters of Ted Hughes, Faber & Faber, 2007