Macbeth (Shakespeare Retold)
In November 2005, Richard Armitage was seen in a modern version of the story of Macbeth.
Peter Moffat's Macbeth is a spirited re-telling of Shakespeare's tragedy, with the Kingdom of Scotland translated into a Michelin-starred restaurant, Nose to Tail: Duncan Docherty's kingdom. It is part of the series of four Shakespeare plays updated to the 21st century and broadast on BBC One, 'Shakespeare Retold'.
Peter Moffat said of the setting he wanted to use, "Ten minutes into my research I knew I was right. The 11th century warrior castle and the boiling hot kitchen on a Saturday night in London's Soho have everything in common" [1]
Richard Armitage takes the pivotal role of Peter Macduff. Describing the restaurant where the drama is set, he said, "[It] is called Nose to Tail and it is all entrails and organs that they cook up. It is all blood and meat so it works very well for Macbeth." [2]

Duncan (Vincent Regan) is the celebrity chef proprietor, but the kitchen is in the hands of Joe Macbeth (James McAvoy), young, energetic, an arch-technician and great team leader in the kitchen. It is on the food that he cooks with such verve and brilliance - animal, visceral, not for the faint-hearted and certainly not for the vegetarian - that the reputation of the restaurant is built – or is it?

In a brilliant stroke, the three weird sisters on the blasted heath become three prophetic bin-men eating loathsome sandwiches in the cab of their dustcart on a landfill site. Later, as they remove the waste from the kitchens in the small hours, they tell Joe Macbeth and his right-hand man Billy Banquo (Joseph Millson) several things that will happen next. One of them happens almost immediately, and the tragedy starts to unfold, following Shakespeare's plot with remarkable fidelity.

Is a restaurant all about the food? This kingdom is more complex. It is an experience of which the food is only a part; the comfort and ambience are provided by the 'front of house' team. And Duncan's larger than life appearances in the media, (he's first seen on TV, cooking Joe Macbeth's 'signature dish'), build the buzz around his restaurant that makes dining there a defining experience for those who want to catch the spirit of the age.

Joe's wife Ella (Keeley Hawes) is the Maitre d', making sure that everything is in place for the perfect dining experience – immaculate linen, silver and glass, the ambience monochrome, stylishly stark yet restful.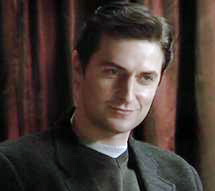 "Macduff [is] a slick head waiter, hovering sourly in the sidelines," said the Observer's TV previewer. [3]

Peter Macduff (Richard Armitage) is the Head Waiter, ensuring that the diners are served with food at the peak of perfection, the instant they desire it. He is a quiet, self-contained figure, watchful and acute, hearing all, seeing all and saying very little.

We first see him serving food to diners, carrying off the faintly ludicrous name of the dish, "Pork Assortments", with ironic aplomb.

We see then him as family man – he has the most conventional home-life of any of the characters, with a beautiful wife, two pretty little daughters, and a workaholic's tensions at home.

He stays aloof from the team spirit of the kitchen, a lone wolf, keeping his counsel. Intelligent, watchful and suspicious, he is a quiet brooding presence, in contrast to the passion and energy of the kitchen crew.

And so, the tragic history of Macbeth unfolds in a modern setting.


[1] Daily Mail weekend TV Magazine, 29th October 2007
[2] Richard Armitage: BBC Ceefax page 524, 15th September 2005
[3] Preview: Observer TV Guide 14th November 2005