The Impressionists
"I have wanted to play a real figure from history for ages."
[1]
In spring 2006, Richard Armitage starred in the BBC drama series The Impressionists.
The series tells the story of some of the artists who later became known by this name, including Monet, Renoir, Degas, Manet and Cézanne. Richard Armitage played the younger Claude Monet.

Today, the works of the Impressionists are seen everywhere – greetings cards, bags, umbrellas to name a few – but when first painted, they were seen as radical, even shocking. Sarah Woods, one of the writers of 'The Impressionists' explained, "The art that went before was so traditional. It was about perfection, not reality."[2]

The series aims to show the world in which these artists lived, their new philosophy about painting and the criticism and early rejection of their work by both the art establishment and public.

In The Impressionists, Older Claude Monet (Julian Glover) is shown being interviewed by a young journalist. Their conversation forms a framework around scenes of the Young Claude Monet (Richard Armitage) and his fellow artists, which are told in flashback. The production team was keen to make use of the considerable amount of documentary evidence that survives about these men. As series producer Mary Downes pointed out, "All the events are true and the conversation is based on letters, books and reported speech from contemporaries." [2]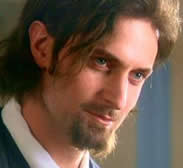 The Impressionists is beautifully filmed and often uses locations visited by the artists themselves. Amongst these is Giverny, the home and gardens created by Monet after he moved there in 1883 and site of the famous Japanese Bridge and water lilies. The series also makes innovative use of some the artists' paintings, offering the viewer a greater understanding of the events surrounding their creation by bringing the scenes to life.

Richard Armitage portrays Claude Monet as a man of vision, innovation and drive, compelled to paint his view of the world. However, during the early years of his career, the costs of this obsession are apparent in the hardships faced by himself and his family. Richard Armitage said of Monet, "He was completely driven to paint, even though at first he had no success with any of his paintings. He was convinced he should follow his vision."[3]

The Impressionists was filmed on location in France and the UK.


Links
Granada International Media Limited website
BBC Press Pack for The Impressionists
Sources

[1] The Times, 10th September 2005
[2] BBC Homes and Antiques Magazine, April 2006
[3] Daily Express Saturday Magazine, 29th April, 2006