George Gently : Gently Go Man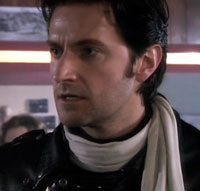 Richard Armitage as Ricky Deeming
In April 2007, Richard Armitage appeared in "George Gently", a drama based on a 1961 detective novel by Alan Hunter.
Martin Shaw starred as Detective Inspector George Gently, taking on what he decides will be his last case. Richard Armitage played Ricky Deeming, the leader of a Geordie biker gang called the Durham Defenders, and chief suspect in the murder of two fellow bikers.

The TV drama was based on Alan Hunter's 1961 novel, Gently Go Man, one of a series of George Gently novels. It was updated slightly from the book - it was set in 1964, at the start of the social and sexual revolution that changed the lives of Britain's youth forever.
George Gently (Martin Shaw) is a Scotland Yard inspector, a 'good' policman working in an atmosphere of police corruption. One of the gangsters he pursues, Joe Webster (Phil Davis), murders Gently's wife Isabella in revenge. Gently's attempts to avenge the murder of his wife are hampered by corrupt police officers who are protecting Webster.
Then Gently learns of the murder of a young biker in Northumberland, Billy Lister (Christian Cooke). Gently suspects that Webster may be involved in the murder, and insists on being given the case.
Martin Shaw as George Gently
In Northumbland, Detective Sergeant Bacchus (Lee Ingleby) is convinced that the prime suspect for Billy Lister's murder is Ricky Deeming (Richard Armitage), the charismatic leader of the Defenders biker gang to which Johnny belonged. But Gently isn't so sure...
The heart of the drama was the relationship between the older, respected George Gently, and the young, enthusiastic John Bacchus who was in danger of being corrupted. It worked extremely well, and their partnership has become the focus of further George Gently dramas based on Hunter's novels - one series was broadcast on BBC One in the spring of 2008, and a second series followed in spring 2009.
Although mainly set in Northumberland, the drama was actually filmed in Ireland in late 2006, mostly in Wicklow. It was adapted by Peter Flannery (Our Friends in the North) and directed by Euros Lyn. Producer Jake Lushington said of the drama, "It's quite an odd piece, because in a way it's a conventional Sunday-night show, a detective drama set in the 1960s. Everything about it seems perfectly normal, and yet it's kind of not. Its themes are all about corruption, the rise of drugs, attitudes towards homosexuality." [3]
The homosexual theme was introduced into the story by Peter Flannery and it adds an extra twist to the plot. Gently is in advance of his time in his attitude to it whereas Bacchus is more typical in his dislike of it. This partly colours the way he treats Ricky Deeming, whom he believes to be gay. Deeming is an intriguing character, admired and respected by the members of his biker gang, a man who looks down on "mediocre people" who lead "banal lives".
Richard Armitage said of his role as a biker, "When I was on a horse for Robin Hood, I kept thinking 'I wish this was a motorbike I had control over'. But after I fell off the bike and broke the clutch handle, I wished I was back on the horse!" [1]

"I learnt to ride a classic 1960's racing bike called a Manx Norton - it was slightly different from a horse, but great fun!" [2]
The TV previews and reviews in the newspapers were generally very positive about George Gently. The Daily Mirror (7th April 2007) called it a "cracking one-off adaptation of the classic 1960's cop novels. .... Super drama." The Sunday Times (8th April) praised writer Peter Flannery for "creating vivid characters - notably Ricky (Richard Armitage), a biker gang's charismatic leader." The Independent on Sunday (8th April) said it was "a strong drama with intriguing elements to the storyline." And the Daily Express (9th April) described it as "a marvellously moody bit of vintage murder melodrama, not too guessable, but also not obsessed with unecessary plot twists."
Links
BBC Press pack for George Gently
Sources

[1] Sunday Mercury, 17th December 2006
[2] TV Times, 17-23 March 2007
[3] Radio Times, 7-13 April 2007