BBC Winter Olympics 2010 trailers
Richard Armitage provided the voiceover for a series of trailers and adverts for the BBC's coverage of the 2010 Winter Olympics in Vancouver.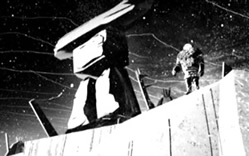 Television
In the week leading up to the start of the Games on 12th February (13th February in the UK), a trailer ran on the BBC's national television channels advertising its coverage.
There were three versions of the trailer, edited to 20 seconds, 40 seconds and 60 seconds, each of which ended with Richard's voice. The trailer featured an animated sequence that showed many of the sports in the Winter Olympics (right).
During the Games themselves, two more adverts voiced by Richard were run. One of them drew attention to the coverage offered on the BBC's website. The other advertised the Olympics news and information available to mobile phone users.
In addition, there were occasional five second trailers that informed viewers that a live Olympics programme was coming up - for example, "In half an hour" or "Next".
Radio
Across the BBC's network of radio stations, several trailers ran in the week before the Games. Again voiced by Richard, each one described a different sport: ski-jumping, skeleton bob and snowboarding.
After the Games had started, more trailers told listeners how they could follow the BBC's coverage. The first featured skiing, skeleton bob and bobsleigh, while the second featured ski-jumping, figure skating and ice hockey.
Links
BBC Winter Olympics website
Official website of the Vancouver Winter Olympics 2010