Trouble in Lemur Land : Phantoms of the Forest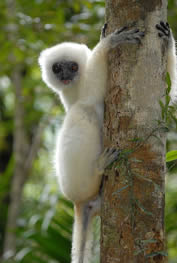 Image: Jeff Gibbs
Richard Armitage narrates a documentary about the silky sifaka lemurs of Madagascar.
The 2011 film, shown in the UK on Eden TV, was made by American primatologist Erik Patel, and shows the threat to the lemurs posed by the destruction of their habitat by the illegal logging of rosewood, ebony and other precious hardwoods.
The silky sifaka lemur is found only in the rainforests of northeastern Madagascar. It's thought the population has dwindled to fewer than 2000, possibly only a few hundred, making it one of the world's 25 most endangered species. Patel's film is an attempt to publicise the plight of the lemurs.
The film is being shown in the UK on Eden TV on Friday 23rd March at 1pm, 5pm and 9pm.
Video clips from Trouble in Lemur Land
This clip is from the beginning of the programme.
Another excerpt, from the pre-title sequence, can be seen on YouTube.
Further information
New York Times article about Erik Patel's film
Interview with Erik Patel at mongabay.com
Article by Erik Patel at National Geographic about illegal logging in Madagascar