Hamlet
In the autumn of 1998, Richard Armitage appeared for the first time at the Birmingham Rep in a production of Hamlet.
Directed by Bill Alexander and starring Richard McCabe, 'Hamlet' opened for a three-week run at Birmingham Repertory Theatre on 22 September 1998. This was Richard Armitage's first professional engagement in the theatre since graduating from LAMDA in the summer of 1998 and it took him back to his home turf in the Midlands. He appeared in eleven scenes, playing the small roles of Barnardo, the officer of the watch who sees the ghost of Hamlet's father in the play's opening scene, and Voltemand, ambassador to Norway, as well as the non-speaking parts of a Lord's Attendant and Lucianus, a Player.
The production garnered some good reviews in the national press. In the Financial Times, Ian Shuttleworth wrote: "[B]oth the internal story of Hamlet's vacillation and the external tale of the rottenness in the state of Denmark are told admirably"; Paul Taylor in The Independent called it a "gripping and unsettling production….a sweeping, urgent account of the tragedy and strongly recommended". [1], [2]
In Rehearsal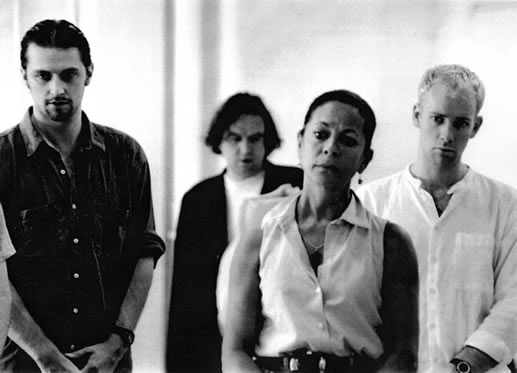 Richard Armitage (left), Richard McCabe (second from left) in rehearsal for Hamlet.
Sources
[1] Ian Shuttleworth, Financial Times, September 1998
[2] Paul Taylor, 'Pierced humanity engulfed in murk', The Independent, 26th September 1998